If you could access life improvement information to find more peace, joy, and purpose–in the way most comfortable to you–by investing a few minutes of your time, would you do it?
Because you can get started right now.

I've gotten various versions of a question I am always glad to answer. It normally goes something like: "I really liked a blog you sent, but what do I do next?" Or, it could be: "How do I learn more about how to apply these ideas and techniques in my situation?"
The STEPS website and blog are designed to help answer those questions.
Life Improvement Steps
As you move forward, there are several convenient ways to access STEPS material, such as:
Explore the STEPS Journey Blog – To get started, read the "Introduction to the STEPS Journey Blog," which lists the categories of articles available. See which categories are of most interest to you, and then check out those articles. Or, check out the categories on the right navigation bar.
Learn more about the STEPS – On the Home page are three topics on aspects of the STEPS around Life Improvement, Spiritual Growth, and Recovery. Decide which of those you want to check out first and click on the associated 'Learn More' box for additional information.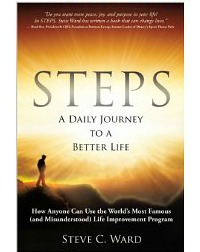 Find sections of the book suited to you – The book STEPS: A Daily Journey to a Better Life is organized so you can easily scan the chapters and pick out the material that most applies to you, and the book can be used as a reference as you move forward.
Apply the Life Application Guide – To get the most impact, use the Life Application Guide as you read the book. This will help you develop a practical plan for how the STEPS can be applied in your particular situation, based on what is most important to you.
Utilize the Life Planning Document – When you signed up for the blog newsletter, you should have gotten access to a life planning guide. If you already receive the weekly blog articles and want the planning document, just send me an email.
One More Step Before You Go
Hopefully, you found the approaches above helpful. But, before you move on, check out the STEPS Journey Blog one more time in a different way.
Scan the titles as they are archived chronologically and check out articles that appeal to you. A few examples you could try include:
I hope this has been a helpful guide, and any of these approaches could be your 'fast path' to finding more peace and joy in your life.
But it's up to you to take the next step.
Question: Which of the life improvement guidance sources was most meaningful to you?
Action: Make a commitment to take at least one action you found in the STEPS material.