Building a better life is realistic if you take it one step at a time. In STEPS, Steve Ward offers a smart and practical life-improvement guide that really works, one which will help you chart a positive and productive future beginning today. You will love this book!
"Practical, yet powerful, concepts that could transform your life."
Combines spirituality, recovery, and self improvement.
Serves as a "how-to" guide for effective living.
Life Application Guide available for individuals, groups, or classes.
What People Are Saying About STEPS
"In STEPS, Steve Ward has written a book that can change lives."
"The practical applications throughout the book are fantastic, and I recommend it to anyone!"
"This book is a model for living a productive and happy life."
"Steve brings forth a new voice and an exciting message to convey practical,
yet powerful, concepts that could transform your life."
Also Check Out the Life Application Guide
Prioritize and select areas which will bring you the most peace, joy, and purpose.
Work out how to use these principles most effectively in your daily life based on who
you are and what your situation may be right now.
Study the STEPS material in a group setting as well as individually. Then, you can
also experience this journey with others and share ideas among the group.
Get started putting these principles into action in your life, starting today.
Overview of the Book
The foundation is the Twelve Steps, the world's most famous recovery program, which has been used successfully by millions of people all over the world. This book brings to light a secret the rest of the world does not fully understand, that these steps apply to all us and provide the best tool ever developed for living in a healthy and satisfying manner.
This approach simplifies concepts from the Twelve Steps into an easy-to-understand process which provides clear, down-to-earth techniques and examples for effective living.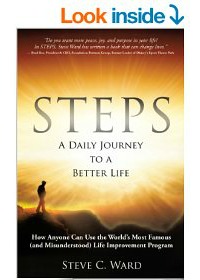 Practical application of the STEPS is demonstrated in key areas:
Finding peace and purpose day-to-day.
Establishing an effective life plan.
Managing money wisely.
Navigating marriage and parenting.
Achieving success and satisfaction at work.
Dealing with tough times and recovery.
Charting a personal path for spiritual growth.
This is the only book of its kind, serving as a helpful road map for your life journey.
If the life you have isn't the life you'd hoped for, you simply have to learn the right steps to get there. Everything you need is here. No more excuses. You just need to take the first step.