As people move through life, they often begin to think more about deeper questions they may have ignored earlier. Sometimes, they begin to feel angst or remorse for things they wish they had done, and sad realizations may creep into their consciousness:
Lack of serenity, courage, and direction because of a refusal to surrender.
Guilt from wrongs left unresolved rather than personal transformation.
Loved ones left unloved and missed opportunities to show empathy.
Worry, wasted time, and exhaustion rather than peace and daily progress.
Emptiness and hopelessness instead of a sense of significance and service.
Instead, we can experience a life marked by peace, joy, and purpose rather than frustration and despair. The STEPS are meant to guide us on this journey, and they can help us develop a positive worldview to orient our existence and provide significance.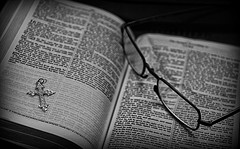 What is a worldview? At risk of providing a somewhat circular answer, a worldview is simply how we perceive the world around us to be. Whether we realize it or not, we each have a personal worldview. It influences how we think and make the decisions we do. It includes how we address critical and enduring questions:
Is life random, or is there some plan or direction for our existence?
Why am I here, and what is the purpose of my life?
What choices in life are critical and which are less important?
How do I live a life of significance, purpose, and meaning?
Are there basic truths in the world and what are they?
Is there a God? What is God like?
No matter where we are on our journey, it is critical to pursue a search for truth, and this includes deciding what role God will play in our life.
Each of us needs a vision, one that energizes our life and provides strength and optimism to move in the right direction each day.
The key is to embrace a view of the world that offers hope and purpose as we move along our journey. Such an orientation will help us feel better about our progress each day because we will know our time was spent pursuing goals with significance and meaning.
Photos by Guampedia.com and Chris Yarzab