Featuring a STEPS Story by Barbara S
Note: This article is one of a series of STEPS Stories, which means it was created by and refers to someone else, not me, and was shared by them as a service to others.
I learned about the Twelve Steps through six years of successful recovery from alcohol. Many of the things I learned in recovery have become a normal part of my weekly routine. As a result, life has been immensely better ever since.
Somehow, though, quitting smoking proved even harder than stopping drinking.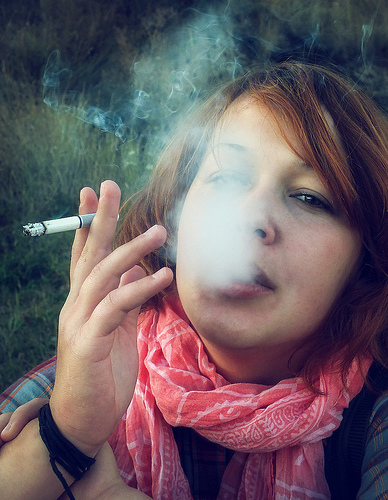 I had been a smoker off and on for 35 years–mostly on. I tried every way I could think of to quit: I stopped cold turkey, tapered off, and counted cigarettes. I attempted smoking only outside, never in the car, not in the morning, and never at night. Gum, shots, pills, patches, and even acupuncture and hypnosis didn't work either.
Sometimes when I stopped, my emotions went out of control, and I cried, raged, or vented to friends. One time, I tried to stop when my children were young. We were packing to go camping, but I wasn't managing the situation well and was mostly just screaming and crying. My kids became frightened and called a friend to ask if she would bring their mother a pack of cigarettes.
Smoking was in control, not me. I could stop for a few days, but then I'd figure that borrowing just one cigarette would be okay. After all, I hadn't smoked for days! Borrowing one cigarette would lead to another. Then, I'd buy a pack, smoke one, and throw the rest away. Next, I'd keep the pack, but promise myself I'd only smoke one a day. All along, I thought I was managing the situation. But eventually I would be smoking full time again.
One day, someone suggested I use the Twelve Steps to help me quit smoking. Wow, what a great idea! The first step seemed natural as I realized that I was certainly powerless over smoking; that part of my life had become unmanageable. [Step 1. We admitted we were powerless over our issue—that our lives had become unmanageable.]I couldn't even sit in a meeting or religious services without obsessing over my next puff of nicotine. I would stay away from activities where I couldn't smoke, or avoid people who might smell smoke on my clothes. Talk about being unmanageable!
I eventually had to incorporate many principles behind the steps in order to succeed. I had faith that God would help me stop if I would do my part. [Step 2. Came to believe that a Power greater than ourselves could restore us to sanity.] I needed courage to live through the turmoil I experienced without nicotine. Overall, trying to stop would simply not have worked without a willingness to change and the self-discipline to follow the steps.
Now, however, I am no longer a slave to cigarettes, and I feel much better about myself for giving up smoking. I am free of a habit that had previously been unmanageable. The smoking experience taught me a lesson I still carry with me, and I'm deeply grateful knowing that the steps can help me in all areas of my life.
Note: Anyone is welcome to submit their own STEPS Story as a way to share their experiences and add value to the lives of others. The process to submit personal stories can be found on the LifeImprovementSteps.com home page.