We all want to find our way–our place, our purpose–and try to figure out the meaning of life.
Even if we aren't aware that we are searching.
Looking back, I believe I was searching for my way for many years without knowing it. I thought I was just "living." But, one by one, I tested different lifestyles to see which might address my inner feelings of "seeking something more" and help me find purpose.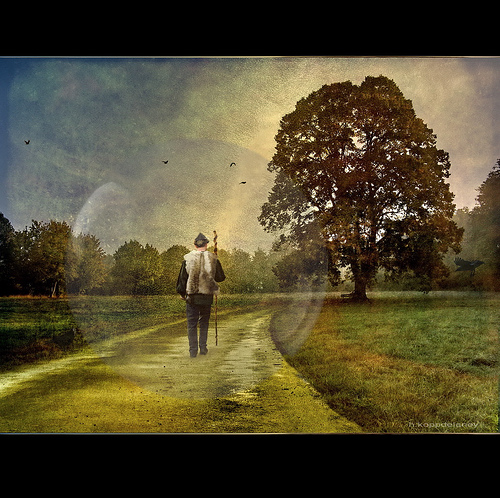 I was optimistic enough to know there must be "something" that would satisfy me [it didn't make sense that life was meaningless], so I simply had to find out what it was.
I assume most people have similar feelings. Do you?
Do you have an inner anticipation, even assurance, that life has meaning? And that there is something special out there that you–and only you–are supposed to do while you are here?
Parallel Journeys
In my late teens, I had moved beyond many of my adolescent insecurities. I decided that having fun, partying, and being adventurous was the way I wanted to live.
"I denied myself nothing my eyes desired; I refused no pleasure." (Ecclesiastes 2:10)
I enjoyed myself, for short periods, but a lifestyle focused on enjoyment alone didn't turn out to be very fulfilling. In my twenties, I "grew up" and turned my focus toward work with the intention of building a career path that I, and others, would be proud of.
"I undertook great projects." (Ecclesiastes 2:4)
As I moved on, a successful Sales career became a socially acceptable way to search for satisfaction by making as much money as I could.
"I amassed silver and gold for myself." (Ecclesiastes 2:8)
None of those pursuits proved to be the answer, so I sought other ways to address my unrest.
"I tried cheering myself with wine." (Ecclesiastes 2:3)
In my late thirties, I became aware of my search, and I decided I should think more deeply about life's key questions, including spiritual ones. I was sure I could figure everything out if I worked at it.
"I turned my mind to understand, to investigate and to search out wisdom and the scheme of things." (Ecclesiastes 7:25)
But knowledge alone was not enough either. Looking back on my life journey, I saw that none of my pursuits had led me to a place that felt totally right.
"Yet when I surveyed all that my hands had done and what I had toiled to achieve, everything was meaningless, a chasing after the wind; nothing was gained under the sun." (Ecclesiastes 2:11)

The Meaning of Life
The author of those verses from Ecclesiastes, most likely Solomon, captured the frustration of having spent a lifetime looking for the meaning of life, but not finding it. We can relate to that journey of Solomon because, for many of us, his story is our own.
But is that the end? That life has no meaning and is merely "chasing after the wind?"
In my searching, I had proven, at least to myself, that our ultimate purpose did not come from the pursuit of pleasure, a job, money, substances, or intellectual pursuits.
But Solomon's journey for meaning, nor my own, didn't end at that point. God came calling.
"And, when all is said and done, here is the last word: worship in reverence the one True God, and keep His commands, for this is what God expects of every person." (Ecclesiastes 12:13 – The Voice)
We can all find our way, our place, and our purpose. And life does have meaning.
It's normal to spend years looking for direction. Developing a life plan or charting a personal path for spiritual growth are helpful steps to take. But, sooner or later, we will all come to a similar conclusion. You can be sure that it is good for you to continue your search for the meaning of life.
Just know that there is only one place you can find it.
Question: Do you believe your current lifestyle will lead you to the meaning of life?
Action: Read the book of Ecclesiastes and write down any insights you derive from it. 
Photo by h.koppdelaney

Photo by gfpeck