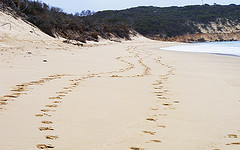 Progress will help us apply principles from each of the five STEPS on a regular basis. The goal is to establish positive daily habits to keep us moving in the right direction. Our daily habits dictate much of what gets done, or not done, in our life. Our journey is not a sprint but a marathon, and daily focus and discipline are needed to finish the race well.
"It is one thing to praise discipline, and another to submit to it." (Miguel de Cervantes)
It is our choice to adopt the discipline of positive daily habits. These habits can include learning to live in the moment each day and setting aside a regular time to stay in touch with ourselves and God. The step of Progress encourages us to use each of the five STEPS as we pray and meditate. These habits deliver benefits each day and also serve as a source of direction when we run into problems in life. When we encounter various trials, which we all do, these habits keep us on course, even in the midst of life's storms.
"If we do not discipline ourselves the world will do it for us." (William Feather)

Progress helps us focus on steady, ongoing improvement. In no aspect of life do we move from mediocrity to excellence in one step. Normally, there is gradual improvement over a period of time. Therefore, the STEPS process is not a one-time project; the intent is to build ongoing discipline to continue to use the process week in and week out. These spiritual routines can become something we look forward to each day. It's similar to someone who implements a running program over a period of time. They maintain the daily discipline to achieve long-term benefits but also learn to actually enjoy running.
With the step of Progress, you will learn to orient each day more closely to how God wants you to live. You will devote more of your limited time to things that really matter and make wiser decisions. You will come to trust God's direction and, as you do, feel a growing sense of satisfaction and peace. You will go to bed each night knowing you are moving in the right direction. Some nights as you go to sleep, you may hear the gentle voice of God whisper, "Well done, good and faithful servant! You have been faithful with a few things … Come and share your master's happiness!" (Matthew 25:23)
Photos by BlakeClinkard and TheGavinAsh