You may be mistaken about your mistakes.
Many of us think that when we do something wrong we become less of a person. Our pride kicks in because, whether we realize it or not, we define ourselves by what other people think of us. Or, we subconsciously drive ourselves to be perfect, and mistakes become shameful pitfalls in that compulsive quest. It doesn't have to be that way.
It's better to see mistakes not as failures, but as learning points in our life journey.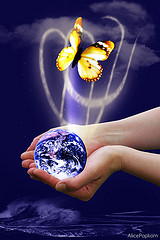 "Do not fear mistakes. You will know failure. Continue to reach out."  (Benjamin Franklin)
Everyone makes mistakes; what is important is how we deal with them. If we try, we can learn something from each one, and mistakes can become an opportunity to:
Learn something new and useful about ourselves.
Become more effective in how we handle situations.
Set an example for others going through similar struggles.
Take a step closer to God by choosing to return our focus to him.
In the book STEPS, the step of Transformation asks us to: "Humbly admit your mistakes and make positive changes in your life."  When you do that, each mistake becomes an opportunity to get better. Personal growth often occurs in small steps rather than through sudden metamorphosis. You can transform your life one mistake at a time if you:
Learn to recognize your mistakes when you make them.
Seek to understand the root cause for your behavior.
Pray about how to avoid similar choices in the future.
The spark of transformation is generated by our humble repentance, and by our acceptance that it is not through our strength alone that we improve. At times, we may need to "mourn" what we have done, and sincerely grieve for a while over our bad choices. Then, we can be comforted and move on with our lives.
Somehow, though, we tend to repeat our mistakes over and over. We remain oblivious to the fact that if we keep making the same bad choices, we will keep achieving the same negative outcomes. As Albert Einstein is attributed as saying, "Insanity is doing the same thing over and over and expecting different results." Sanity prevails when we learn to recognize the negative consequences of our actions and adjust our behavior.
For years (sometimes still), I used anger and control to deal with situations that seemed to be going wrong in my family. Where did that anger and control come from? From fear of what might happen and frustration at my inability to stop it. I thought about where that fear came from, and eventually I saw that it came from a lack of trust in God. I learned that if I focused more on my trust in God, much of the fear went away. Then, I was better able to stay calm and deal with those situations in a more appropriate manner.
It is truly amazing that God can use our mistakes to do good things, both in us and sometimes in others. When we make bad choices, if we humbly correct ourselves, we take a step back toward God. Our mistake becomes an opportunity for growth! It is wonderfully encouraging to know that God can use our screw-ups to help us become better people.
Can you identify one mistake you tend to make over and over?