Most of my life, I have been pretty happy. Work, family, friends, sports, and hobbies were enjoyable and, in many ways, even satisfying.  
On the surface, everything seemed fine, including to me. But, learning to go deeper was not on my agenda. If life was a swimming pool, I was hanging out in the shallow end.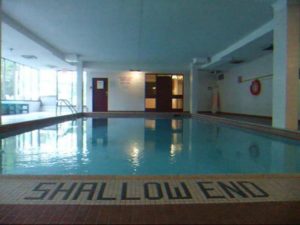 My conversations were small talk versus meaningful discussions, so relationships were more superficial than substantive. My self-awareness was shallow, spirituality knee-deep, and service to others nonexistent, creating experiences more trivial—less deep—than they could have been.
 

No one learns to swim in the shallow end of the pool.

(Michelle A. Homme)
Exploring Deeper Waters
When our boys were young, we lived in Orlando, where having a pool is close to mandatory. I remember watching my younger son learning to swim. He splashed around in the shallow end until he was ready and then ventured into deeper water, slowly at first, but more confidently each time. Soon, diving and retrieving toys from the deep end were what swimming was all about for him.
For me, learning to scuba dive was a similar process. Snorkeling was fun for a few years, and I saw cool fish and coral reefs. But, I yearned for more excitement and decided to get certified to scuba dive. Each lesson taught me more, and I graduated with a checkout dive in the ocean. An undersea world opened up for me that was different—better—than what I had experienced before. 
Life can be like that.
We hang out in the shallow end, splashing around and having fun. Over time, we notice there are areas of life we are not living to the fullest and, hopefully, begin to explore deeper waters. Then, and only then, do we discover a new way of living we never enjoyed before.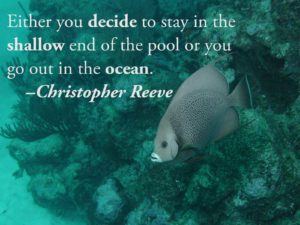 Learning to Go Deeper
Learning to go deeper happened gradually for me.
I took—was guided to—steps that helped me move beyond the superficial aspects of life. I got older, became married, and had kids. My relationship with God deepened, and I decided to dive all the way in. Becoming involved in service ministries opened my eyes in new and wonderful ways.
My relationships became more significant. Later, tough experiences forced—presented—a more meaningful perspective on life. Involvement in recovery allowed me to see things more deeply than ever before. And writing, first a book and then a blog, helped me explore even newer waters.
The Battle for the Heart retreat I went on last weekend helped me take steps to go deeper as well.
I realized my tendency to be a "think and do" kind of guy who operates largely at the rational and volitional levels. I saw there were emotional and spiritual waters yet to explore to get more in touch with my feelings and deep desires. In earlier years, that may have seemed frightening, but now it presented an exciting adventure to experience life at an even deeper level.    
Perhaps I am meant to swim in deep waters …better deep than shallow! (Joseph Smith Jr.)
Taking Steps to a More Satisfying Life
In some ways, learning to go deeper is like scuba diving.
We may be uncomfortable at first, even frightened. Because there is risk: becoming self-aware, surrendering spiritually, and becoming vulnerable and transparent can seem scary. Wonderfully, there are things we can learn—spiritual and emotional STEPS­—to help us move forward gradually.
Splashing around in the shallow part of the pool is fine, but diving into the deep end is far more exciting. Similarly, snorkeling is great, but scuba diving more invigorating, and it can allow us to become immersed in a whole new world, one we would not experience otherwise.
Life is like that, so think about it. Then, come on in, the water's fine.
Question: Are you willing to go through the process of learning to go deeper?
Action: Pick an area—relational, emotional, or spiritual—and start taking steps to go deeper.