This opening chapter of STEPS will give you an overview of what the book is about, so take a few moments to check it out.
My journey…
I had never been around a group of people like this before. Each member demonstrated a unique wisdom that amazed me: not wisdom measured by college degrees and business titles but rather an understanding derived from suffering and experience, from setbacks and successes, from defeat and victory. Somehow, they all seemed to have access to an unseen store of knowledge that helped them navigate through the ups and downs of life.

The people were diverse, yet connected by a common desire to learn from the experiences of others. Business men, soccer moms, laborers, students, and the elderly—women and men of every age and race—were both teachers and students throughout the 30–minute discussion. Despite their differences, the group seemed to speak a common language, an understood way of organizing their thoughts and words. This collective understanding, this consistent framework, made the life experiences and shared insights even more powerful. Heads nodding in assent around the room showed the connections being made.

I observed more practical wisdom in that room in one morning than I had witnessed in years in my busy, heads–down sprint through life. As the people kept talking, a pattern to this shared wisdom emerged: it was called the "Twelve Steps."
The World's Most Famous Life Improvement Program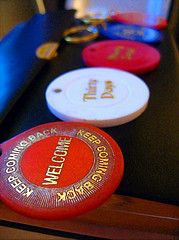 A year after that first meeting, after many books and hundreds of hours of effort, I better understood the remarkable wisdom I had first seen in that room. I learned that the Twelve Steps, originally created by Alcoholics Anonymous, form the most successful life improvement program ever created. A conservative estimate is that over seventy million people—alcoholics, drug addicts, gamblers, overeaters, those dealing with depression or anger, and many others—have improved their lives using the Twelve Steps. Decades of success have changed lives in many different ways; yet, somehow, the steps are still a misunderstood secret to the majority of people not engaged in recovery.
After a second year, I had learned another secret about this process: these same steps are more than just a tool for overcoming addiction. The Twelve Steps are a proven formula for dealing with issues we all face in life. Over and over, I heard stories about "how I used the steps today." Amazingly, outside the world of recovery, most people had at best a hazy view of what the Twelve Steps were all about. Virtually no one had any idea the steps might be useful to them as well as to those battling addiction.
I was also surprised to learn that these same Twelve Steps form a sound roadmap for spiritual growth. The founders deliberately anchored the program around enduring spiritual truths. This made sense; how else could such success happen over decades and for tens of millions of people, without the help of a Higher Power?
The more I studied the Twelve Steps, the more powerful they seemed to be. They are more than a method for recovery, a spiritual roadmap, and a way to handle problems. These are principles that can help anyone live a satisfying and productive life. People who have never had a drink can use the steps every day. Someone who rarely goes to church can receive spiritual insight. Anyone interested in self improvement can benefit through applying the wisdom from the Twelve Steps. Unfortunately, the vast majority of people have no idea such useful, flexible guidance is so readily available.
What's Different About This Book?
In my research, I did not find a book that presented the wisdom of the Twelve Steps in a way that was truly applicable for everyone. There are many books on recovery, but most do not address normal day-to-day challenges beyond addiction. Thousands of books cover various aspects of spirituality, but few show how to take practical steps to grow closer to God. Books on personal motivation and self-help are everywhere, but many seem to be more flash than substance, aimed at the latest fad or new idea.
This is a book about living in a way that brings greater peace, joy, and purpose. The Twelve Steps provide enduring lessons that apply to all of us. The STEPS process presented in this book is an easy-to-use guide to living a productive and happy life.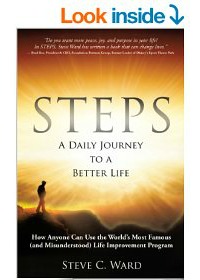 The Twelve Steps are the world's most successful recovery program, but this book is not about addiction. The STEPS process is a broader journey of discovery, moving beyond what people refer to as "recovery." It outlines a proven methodology for dealing with all types of challenges and opportunities in life. The STEPS can be used on a day-to-day basis and, when followed over a period of time, lead to life transformation.
This book provides a path to greater spiritual understanding. Other books have this goal as well but may not offer specific actions we can take on a daily basis to move forward. Much spiritual material talks about "Why" we should change, but does not tell us "How" to change. This book will help you take specific steps to grow closer to God.
Many people are not sure about God. They may see God as some form of Higher Power, and they may not have made a commitment of any sort. That's okay for now; this book presents material that will apply wherever people are on their spiritual journey. Every attempt was made to remain theologically sound, while also trying to connect to people wherever they happen to be. Please note that I believe there is one, and only one, God. If you do not know him, I pray you allow him to find you as you move along your journey.
This book includes life-improvement techniques you can use today. Often, what we need is practical guidance rather than theory or self-help hype. The STEPS process is based on spiritual and recovery truths, augmented by related self-improvement ideas. The concepts are presented in a way that can be implemented in a series of practical steps. This is a book for living each day with greater satisfaction and effectiveness. It is meant to be used as a tool to help you improve your life one step at a time.
Who Should Read It?
For all of us, life is a journey. Sometimes, the destination seems unclear, and a good roadmap is hard to find. At times, we may lose our sense of direction. When we do, our tendency is to keep going even after we realize we've taken a wrong turn. It doesn't have to be that way. The Twelve Steps provide a roadmap for our journey through life. In this book, you will read about challenges you will face along the way. You don't have to face those challenges alone. This book will help you learn from the experiences of others who have gone down the same road you are traveling. You can continue to reference this material as a guide for years as you move along your journey.
It will take a small investment on your part to take the next step. There are lots of things you could be doing with your time, so why read another book? Why spend the time learning about the STEPS process?
Because you care about doing your best in life. You care about your life, your goals, your family, and other people. You want things to improve, and you would like a guide as you travel through life. You know there is a lot at stake in the choices you make, and you want to live the right way. At the end of the journey, you want to hear that inner voice say to you, "Good job; you did your best."
Because you are willing to invest time in something important. Like all of us, you can use practical advice to help you along the journey of life. But you're busy and don't have time to sort through the overload of information that is out there. This is a how-to book you can start using today rather than wandering through a variety of material in an attempt to piece together a game plan.
Because you're struggling with something. Maybe you've recently been through tough times or faced issues you weren't sure how to handle. Maybe you are going through a trial now or see dark clouds on the horizon. You know that in life there will be troubles and, like all of us, you could use a little help now and then.
Because you feel God should play a role in your life. You may be a devout believer who wants to continue your personal growth. You could be someone who realizes there must be a God out there, and you are trying to figure out what that God is like. You may be religious now, or you may not think about religion at all. You are willing, however, to investigate a God who cares for us and wants the best for us. You know the issue of a Higher Power is the most important question in existence, so you want to understand the options. You are courageous enough to search for the truth.
How Did the Book Come About?
The concepts in this book are based on wisdom used successfully for decades with the Twelve Steps. The material also includes related spiritual principles that have helped people for centuries, including biblical teachings. The value of this book does not come from clever invention on my part but from time-tested principles augmented by practical how-to advice. My task was to gather, organize, and deliver guidance in these areas that people could put into practice on a daily basis.
Why was I in that room where I first encountered the Twelve Steps? I have suffered from, but am now victorious over, alcohol abuse. The same is true of my wife and, thank God, it has been years since we have had alcohol. In addition, our son battled both drug and alcohol issues. He has now moved on and is doing well. My family's journey over the last decade included other trials as well. We faced depression, the loss of loved ones, job change, and job loss. We dealt with financial problems and marriage issues.
Along the way, we saw how the Twelve Steps work in people's lives. Our family learned from inpatient and outpatient training, professional therapy, church counseling, and hundreds of AA, Al-Anon, Celebrate Recovery, and family addiction meetings. My wife has attended over 1500 AA meetings and served as a sponsor for a number of women. Her life's mission has become to help women who suffer from alcoholism move toward recovery. We greatly benefited from connecting with other people. Everyone has issues, and it's helpful hearing from others who have dealt with them successfully. Over the years, we learned from hundreds of people who were dealing with similar life situations.
Over the last fifteen years, I also devoted extensive study to spirituality with a focus on the Christian faith. I spent hundreds of hours of research and training learning how to apply a spiritual approach to finances, marriage, raising kids, work, and life in general. Having been in the business world for over 30 years, I also benefited from formal and informal training in management and personal motivation, and I have read dozens of self-improvement books by many of the world's best authors in these areas.
Several years ago, the idea for this book was born. As we moved forward, life kept happening; some of it was good and some not so good. At times, we were just trying to keep going, to maintain our faith and direction in spite of significant challenges. Our family's direction in life was changed by our experiences with the Twelve Steps. Through it all, our lives have been blessed. As seems to often be the case, God does some of his most profound work as we go through our deepest trials.
For all of us, life is a journey. Hopefully, the teachings in this book and the experiences of our journey will help you on yours. My heartfelt desire is for this material to help people improve their lives and grow closer to God. I hope you enjoy the book. God bless.