Imagine you are in a receiving line, with many people slowing streaming by. Each reaches out with a warm handshake and a smile, or bends over to give you a deep hug. They are all there to acknowledge someone who has made a difference in their lives.
In every case, the person they are thanking is you!
That is a future vision, perhaps even a small snapshot from heaven, but flash back now to present-day real life and think: how can you make a difference in the lives of others?
Finding Purpose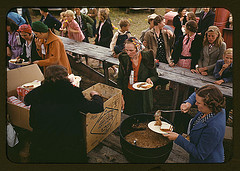 In life, we achieve purpose by serving others.
That is how we are designed and how the world is meant to operate. A need for significance is fundamental to our existence and deeply important to our sense of well-being, and we find our purpose in life outside of ourselves.
"The service we render to others is really the rent we pay for our room on this earth. It is obvious that man is himself a traveler; that the purpose of this world is not "to have and to hold" but "to give and serve." There can be no other meaning." (Sir Wilfred T. Grenfell)
If we try, we can detect this sense of design to be of service to others and contribute to the world around us. We feel it when we do something to help someone and notice a warm feeling of satisfaction. It feels right, as if it were the way it was meant to be.
"It is more blessed to give than to receive." (Acts 20:35)
Ingrained in each of us is a desire to live a life of purpose, to be part of something bigger and more enduring than ourselves. The good news is that what we most desire is already at our fingertips, since true significance is found in the service of others.
"Act as if what you do makes a difference. It does." (William James)
By Serving Others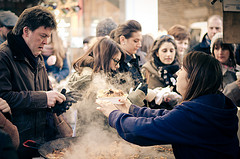 From the book STEPS, the step of Service asks us to: "Serve as an example and add value to the lives of others."
But how do we do that?

By practicing acts of service in our daily lives – If we try to serve people on a regular basis, we can add value to the lives of others and receive wonderful benefits ourselves. In addition, our lives will convey a helpful message to other people. Often, others learn more from how we live our own life than from what we say to them.
"Be diligent in these matters; give yourself wholly to them, so that everyone may see your progress." (1 Timothy 4:15)

By carrying a message of hope to others – Each of us has a message we can take to others, which is the experience we have gained along our own journey, including from mistakes we made and what we learned from them. Often, trials we have faced are similar to those someone around else is going through, and they can benefit from our experience.
Anyone can be a good example, one way or another.
Once we look for opportunities to serve and share with others, we will find they appear more and more often. This is not a coincidence–that is how God does things. God gets his work done on Earth through people who are willing to help. Our job is to make ourselves available to God, and he will in turn present us with opportunities to serve.  
 "Always be prepared to give an answer to everyone who asks you to give the reason for the hope that you have." (1 Peter 3:15)
Start Right Where We Are
If we look, we will find opportunities to serve. They are all around us every day, and all we have to do is notice and agree to participate in them.
It has been said that "a coincidence is when God chooses to remain anonymous." These "coincidences" are examples of our all-powerful God showing compassion for those in need, and then choosing to involve us in his work on Earth. They are more than coincidences; they are literal examples of God's miraculous involvement in our daily lives.
Participating in these miracles will affect us as well as the people we help. Looking for such small miracles can become an adventure that adds excitement and purpose to our daily lives.
You can find purpose in life. And you can make a difference in the lives of others.
Starting right where you are …
Question: What part of your life currently brings you a sense of purpose and significance?
Action: Perform a random act of kindness for someone today, and notice how you feel.
Photo by The Library of Congress Photo by garryknight

Photo by Artotem