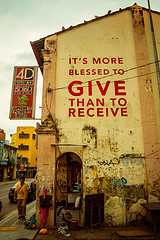 Many people underestimate the contribution they can make to the world and to the people around them. They don't realize or understand God has built into them a need for purpose, something more important and invigorating than a humdrum day-to-day existence. They may not normally think of themselves as someone who is able to:
Serve as an example.
Add value to the lives of others.
Help people change their lives for the better.
Contribute to make the world a better place.
We often consume our days with activities that keep us busy but which are not ultimately satisfying. Too rarely do we think about the effect our life could have on those around us.
In life, however, we achieve purpose by serving others; that is how we are designed and how the world is meant to operate. A need for purpose is fundamental to our existence. If we learn to begin each day with a feeling of thankfulness, recognizing God as the source of our blessings, it will encourage us to think of others more than ourselves. Interestingly, we find our ultimate purpose in life by looking outside of ourselves.
"The service we render to others is really the rent we pay for our room on this earth. It is obvious that man is himself a traveler; that the purpose of this world is not "to have and to hold" but "to give and serve." There can be no other meaning." (Sir Wilfred T. Grenfell)
We innately recognize that being of service to others is a trait to be admired. We respect those who contribute to their community by joining a service group and look up to people who serve their church. We describe those who devote themselves to defending their nation as being "in the service." We admire people who serve as a positive example for others, whether as a teacher, coach, counselor, sponsor, business leader, or pastor.
All of us, not just some of us, are designed to be of service to others and contribute to the world around us. We feel that sense of design when we do something to help someone and notice a warm feeling of satisfaction. It feels right, the way it was meant to be.
"It is more blessed to give than to receive." (Acts 20:35)
Ingrained in each of us is a desire to live a life of significance, to be part of something bigger and more enduring than ourselves. Unfortunately we often misread this drive, and head off in search of the wrong things. We pursue money, power, control, self-esteem, popularity, or other goals in our quest for significance, only to find those things unsatisfying when finally achieved. We eventually learn that what we most desire is already at our fingertips, and that true significance is found in the service of others.
"Act as if what you do makes a difference. It does." (William James)
Too often, we spend our lives in furious activity working heads-down to achieve what later turns out to be the wrong objectives. Years later, we look back and ask, "Why didn't I spend my time on more important things?" It is sobering to anticipate being haunted by that question at the end of our life. Money, power, status, and possessions will provide little consolation if our lives have lacked meaning and purpose. The step of Service can help us avoid that fate, and it will guide us onto a path leading to true significance.
Photos by Alexander Synaptic and USAG-Humphreys