Twelve Step principles are extremely useful when we have problems and issues–Can they also help us in the routine, day-to-day aspects of our lives?
The two most recent STEPS Journey Blog posts discussed how we can apply these concepts to managing money wisely and improving our family relationships. This article will deal with how we can use them to operate more effectively at work.
One of our most valuable professional assets is good relationships. These are built by making every interaction a win/win situation where coworkers feel good about working with us. To do this, we must ensure we don't let negative situations to go unchecked, and do what we can to add value to them. Our goal is to be a trusted and valued coworker everyone knows they can count on.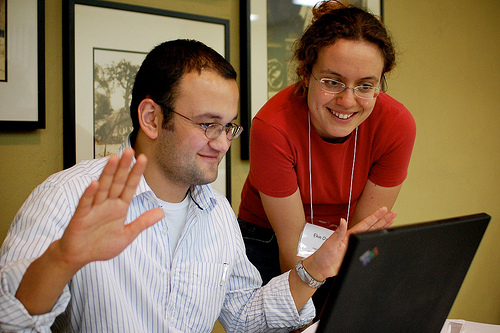 Empathy in the work environment goes a long way. I am not naturally the most empathetic person in the world, but some time ago I noticed an important aspect of my job: my coworkers are actually people too! I learned if I would treat others as I wanted them to treat me, everything seemed to work out better. When I slow down to get to know my coworkers as people, ask about their family, and talk about non-work issues, it helps create more pleasant relationships, and it is also more effective from a work standpoint. When I take time to think about actually serving my coworkers, things change even more. If I can help make them successful, it virtually always works out well in the long run. A small investment of time can help develop positive relationships that make the job more enjoyable and meaningful for everyone concerned, and it's even good for business!
At work, spending time on relationships is one of the best investments you can make. The simplest, most powerful approach is to apply the Golden Rule: "Do to others as you would have them do to you" (Luke 6:31). This leads to satisfaction at work and helps you avoid negative situations. At work, bad relationships are always harmful and sometimes disastrous. If you make a mistake or hurt someone, it is always better to make amends immediately and do whatever is needed to rebuild the relationship.
It's important to be trustworthy and to add value to others on the job. Do you even know how your coworkers think about working with you? To check on your current approach to relationships, ask yourself if you:
Return calls in a responsive way when others need help?
Assist others on their projects, whether or not they have helped you?
Share credit with others and let people know when they have done something well?
Treat your coworkers as people who matter, even when it's busy or hectic?
Empathy, or the ability to understand and share the feelings of another, can become a valuable part of your professional skills portfolio. Over time, this will increase your value to the company, and it also makes work more fun!
During a normal work day, what do you do to enhance your work relationships?
Action: This article is an edited excerpt from STEPS: A Daily Journey to a Better Life. Get more insight on how to be more effective at your job from the rest of the chapter on "Achieving Success and Satisfaction at Work."
Photo by Easa Shamih (iZZo) | P.h.o.t.o.g.r.a.p.h.y