There seem to be problems with prayer. And, sometimes, I wonder how good I am at it. But I have a feeling that as long as we keep trying, it probably works out all right.
And it's an important topic, one worth thinking about. Talking to God, the Creator of the Universe? Yep, sounds pretty important.  
The Problems with Prayer
I'm not sure why I have problems with prayer; it's just not one of my spiritual strengths.  
At times, I feel my prayers are shallow, almost an after-thought. I know God is listening. But, sometimes, it comes out sort of half-hearted.  
I'm not as good about praying for other people as I should be either. Often, it feels forced, like I'm doing it out of duty. After all, I did say, "I'll be praying for you."
And I wonder if my prayers matter. Will God change his mind just because I asked?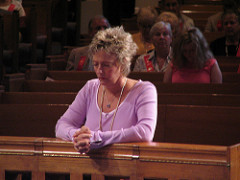 It seems a lot of people have problems with prayer, and here are some of the more common issues that come up:
We just don't feel like praying.
It's hard to tell if we get an answer.
What's the point of asking God to do something if he is in control of everything anyway?
Then, Why Should We Pray?
Even though I have problems with prayer, I never forget how miraculous it is. To know that God listens to me, and to be assured–deep inside–that it pleases him. Amazing.
I may not pray as conventionally as some do, but I think that's okay. I talk to God all the time as part of the internal conversations I have in my head. Is that prayer? Not sure, but it works for me.
And during tough times, I find myself depending on prayer desperately, like a drowning victim holding onto a lifeline. During those times, talking to God is not a duty, but a necessity.    
The bottom line is that it's pretty cool, and amazingly miraculous, to actually talk to God.
What are other reasons we should pray?
It's good for us because it:

Helps us better discern God's will.
Keeps us humble and focused on God.
Becomes a way in which we can better overcome temptation.
Makes us feel better, no matter what our circumstances may be.

In the Bible, we are told to pray, so not doing so becomes, at some point, disobedience.
God listens, and he hears our prayers. Talking to him becomes a key part of our relationship.
Although this part is mysterious, it sometimes makes a difference in how things turn out.
"This is the confidence we have in approaching God: that if we ask anything according to his will, he hears us. And if we know that he hears us—whatever we ask—we know that we have what we asked of him." (1 John 5:14-15)
Prayer and the supporting habit of meditation do work. And, although prayer is so important, talking to God is not something we can mess up.
Even if we have problems with prayer, and when we feel doubts. God wants to hear from us, and he knows what's in our heart, so the exact way we go about speaking with him is not as critical.     
Therefore, there's no reason why any of us can't just get started.
Question: Under what circumstances do you pray the most intently and sincerely?
Action: Stop for a moment and pray, and simply enjoy a conversation with God for a while.