Premise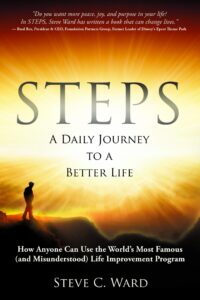 The world's most famous and effective recovery program, the Twelve Steps, has been used successfully for decades by millions of people. But those steps are a misunderstood mystery that only people involved with addiction truly understand. Unknown to most others, the Twelve Steps provide the best tool ever invented for living in a satisfying and effective manner. This book simplifies this program for use beyond the realm of recovery. It provides proven techniques and clear examples anyone can use as flexible how-to guidance for common, everyday situations. Step by step, we are guided along our life journey to discover a new way of living marked by greater peace, joy, and purpose.
Read more information on the book: STEPS: The Book
Manuscript Status
Fifteen years of experience led to the inspiration and ideas for the book. Hundreds of hours of research were conducted prior to the start of writing, which took several years.
Manuscript length – Approximately 99,000 words.
Available in hard cover, paperback, and ebook.
Special Features:
The approach condenses the Twelve Steps to an easy-to-understand five-step process.
The STEPS integrate the world's best self improvement, spiritual, and recovery ideas.
How-to content is clearly outlined with useful techniques anyone can use.
Numerous examples help readers see how to apply the process in their life.
Every chapter uses true, descriptive stories as examples of successes and mistakes.
Chapters on using the STEPS for money, family, work, and other everyday situations.
Section headings and highlighted phrases summarize key points for easy reference.
The book is designed to be used for decades as a how-to manual for daily living.
Learn more about the benefits of the STEPS process: Benefits
Download the supporting Life Application Guide: Life Application Guide
Position in the Marketplace
There are thousands of books on the market in the areas of recovery, spiritual growth, and self improvement, but no known work with the characteristics of STEPS. A unique advantage of this book is its holistic, yet practical, approach for integrating life improvement principles of all these areas into understandable, easy-to-use techniques and examples. One can observe generalizations of other books from these three genres:
Recovery and Twelve Step books tend to stay confined to the arena of addiction. Even though the Twelve Steps can be applied to many areas, almost no recovery books are written to reach readers outside the world of addiction. A key objective of STEPS is to make the wisdom and value of the Twelve Steps known to a wider audience.
Spiritual books are often limited in breadth and reach. Most are targeted toward a particular religious group, and they seem to be written for people who are already well versed in religious jargon. Many come across as theory rather than practice, and few are written in a practical how-to style showing specific steps to take on a daily basis.
Self improvement books are varied and eclectic. Many offer high level advice without detailed how-to guidance. Few draw on wisdom from the spiritual or recovery arenas. This is ironic, since a reference to "twelve steps" has assumed widespread use in how-to jargon. Most do-it-yourself books lack the depth needed to drive true life transformation.
STEPS is clearly differentiated versus other books in its approach:
Apply the Twelve Steps to day-to-day living beyond the scope of recovery.
Focus on practical how-to concepts and techniques anyone can use.
Combine spiritual and self improvement concepts with those of recovery.
Deliver life-transforming results reached through practical daily steps.
This differentiated approach will make this a valuable book to a large number of people around the world, and the material is timeless in nature. The goal is for STEPS to become a widely known life improvement book that will earn headlines such as: "If you only read one non-fiction book this year, this should be it!"
Read endorsements for the book: What People Are Saying
Project Overview
An extensive Project Overview, derived from the original Book Proposal, is available upon request by email. It contains useful information for anyone interested in the STEPS book and related marketing. The Project Overview document describes:
The Content: Value Proposition, Overview, STEPS Process, Book Structure
The Market: Market Segments, Affinity Groups, Competition, Marketing Plan
The Author: Background, Qualifications to Write this Book, Personal Marketing
Chapter by Chapter Synopsis
Download the Project Overview: STEPS – Book Overview