St. Peter's Square was packed with hundreds of thousands of people, all there for one reason. My wife and I waited expectantly, and soon a murmur began to spread through the crowd.
Then, there he was!
Pope John Paul II emerged onto the balcony and waved at the people assembled below. Soon, he began the blessing—at least, that's what we assumed he was doing—and the crowd quieted.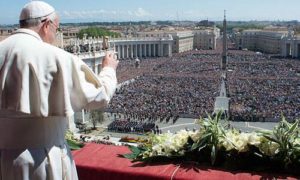 And I wondered: what does it mean to be blessed by the Pope as part of such a large group of people? The Pope doesn't know me; how could anything he does affect me personally? Does he express love toward the overall crowd, or does he somehow speak to me as well? 
I wonder the same thing about how God loves us.
How about you? Do you feel God loves you? I mean, do you actually feel his love—individually, personally, as if he was right there with you?
Sometimes, I find myself searching for those feelings. But, recently, I began to wonder: maybe I'm thinking about this feelings thing backwards …  
The Heart for God's Love
Because of these feelings—or lack of them—I decided to study how God loves us, so I looked up dozens of verses about how it is portrayed in the Bible.
After my research, it hit me that I had been thinking about God's love the wrong way. I shouldn't mope around waiting to feel God love me. I should just do my part, which is for me to love God!
After all, God is God. Who are we to question how he chooses to interact with us? I figured that if I love God with all my heart, then the feelings part will work itself out.
Scripture offers wonderful direction, including on how God loves us. Our most critical guidance comes when Jesus is asked, "Which commandment is the most important of all?" His answer …
Love the Lord your God with all your heart and with all your soul and with all your mind and with all your strength. (Mark 12:30)
The Soul for God's Love
Years ago, our family was going through some very tough times, and life was hard. During that period, I would sometimes go alone to the evening chapel service at our church in Atlanta.
One night, I was feeling especially discouraged. They were serving communion, and the pastor was a friend of mine named Bob. As he handed me the communion elements, Bob personalized the blessing and said, "Steve, there is nothing that can separate you from God's love."
And something supernatural happened deep in my soul.
I felt something powerful sweep over me and started weeping on the spot. At that moment, I knew God loved me, personally, no matter what else was going on in my life.
And I am convinced that nothing can ever separate us from God's love. Neither death nor life, neither angels nor demons, neither our fears for today nor our worries about tomorrow—not even the powers of hell can separate us from God's love. (Romans 8:38)
The Mind for God's Love
Each person's spiritual journey is different. For me, I often have to figure things out in my head before my heart is ready for the next step.
Here's a simple logical connection that came to me recently about how God loves us:
A. God love his people – The Bible is full of God's promises that demonstrate his feelings for us, including how he loves us. I believe them to be true, and representative of God's character.
B: I am one of God's people – I know God has changed me, and that he interacts in my life through his Word, people, circumstances, and in other ways.   
C: Therefore, God loves me – If statements "A" and "B" are both true, then "C" must be true as well.
For God so loved the world, that he gave his only Son, that whoever believes in him should not perish but have eternal life. (John 3:16)
The Strength for God's Love
The Bible reading I mentioned above connected God's love to several key actions we can take. After seeing these themes repeated in Scripture, it helped me understand more specifically the things I am supposed to be doing that are part of how God loves us.
Doing things doesn't earns God's love. But, doing the right things allows us to feel his love more.
What are the actions the Bible connected to how God loves us? The ones I noticed were:
Loving God
Abiding in him
Loving others
Keeping our faith
Obeying his commandments
If I do the things I should be doing, I believe the feelings part will work out fine.  
God loves each of us as if there were only one of us. (Saint Augustine)
Question: Do you feel God loves you individually, personally, as if he was right there with you?
Action:  For one day, do your best to love God with all your heart, soul, mind, and strength.