Righteousness is a trait we aspire to, and we normally think of ourselves as good people.  
But being human, we want what we want and–consciously or unconsciously–we do what we can to get it. We see our desires with perfect clarity yet seem to have myopia for the needs of others.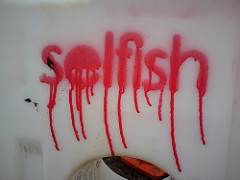 We don't think of ourselves as indifferent or apathetic, and we aren't deliberately mean. Yet, heartfelt feelings of sympathy and deep concern for others appear as but fleeting intruders in our hectic and self-centered thought life.   
The world according to us.   
The Nature of the Problem
We want to be kind. Being considerate is what good people do, right? And we would like to be seen as compassionate, understanding that concern for those who are suffering is a noble pursuit.  
But kindness and compassion do not come naturally to us, at least not all of the time. Maybe they are character traits that people either have or they don't.
A common element in kindness and compassion is empathy, which is often lacking in how we go about our daily activities:
When someone is talking, we tune out while focusing on the next story we can't wait to tell.
Sometimes, we say things that seem to upset someone else, and we don't understand why.
When arguing, we pursue our point relentlessly until we are sure we have won decisively.
We don't connect with that person at work who we have always seen as sort of different.
We walk past homeless people we encounter, inwardly annoyed that they are bothering us.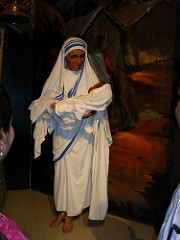 What is empathy? It is the capacity to recognize and share feelings being experienced by another person. Is it something we are born with? Do we have it or not, and that's the end of the story?
I don't think so, and we can make progress developing more empathy if we try, and that will lead us to experience more sincere feelings of kindness and compassion as well.
Developing More Empathy
Each day, we can take steps to change how we act in dozens of ways, such as:
Stop talking so much. Have good conversations and listen deeply when others are talking.
Notice when something we say seems to bother someone else and pause to make it better.
Stop trying to win arguments and try to understand where the other person is coming from.
See everyone as a unique individual worth knowing and connect with them where they are.
Stop and look into the eyes of the next homeless person we meet and ask them their name.
We can learn to include acts of everyday empathy as a normal part of how we go about our day.  
God will help us in developing more empathy if we ask. It starts with a simple request: "God, please help me set aside my obsession with myself, and help me feel more deeply for others."   
Some of God's best gifts to us are known as the 'fruit of the spirit', and they include love, patience, kindness, goodness, and gentleness (Galatians 5:22-23). God will be a constant helper in our quest to move away from our self-centeredness toward a greater compassion for others.  
Developing more empathy is an achievable goal. If we are willing to take the steps to get there.
Question: When was the last time you felt truly and deeply empathetic for someone else?
Action: Pick one of the common examples above and work to improve in that area.