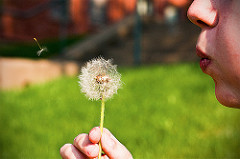 If you were given 3 wishes for someone you care deeply about, what would you choose? Since this is just a game (well, sort of), let's add a couple of rules. First, we'll say that all versions of "wealth, health, or happiness" are off limits. And, second, you can't wish for anything related to outcomes or circumstances, only for a mindset for whoever it is that you are wishing for.
Wait, we may need to slow down for a minute: just what is a mindset?
A mindset is an attitude or disposition that influences how you interpret and respond to situations. For example, you perceive life and make choices much differently if you are optimistic or pessimistic, a risk-taker or cautious, or if you tend to be flexible or rigid in your thinking.   
The First 2 Wishes (Choices)
To make this easier, I'll play the mindset game too, and I will be choosing 3 wishes for someone I care deeply about—you! I do care about you, even if I don't know you personally. In fact, you are why I write this blog each week, so I'll do my best to select good wishes for you.    
Wish #1 – Actually, this one is easy to choose. I wish for you a deep personal faith and Biblical worldview. Such that your mindset would be to love God, embrace his truth in the Bible, and know that Jesus came to earth to live and die for you. If I only had one wish for you, that would be it!
Wish #2 – My next wish is for you to find hope and meaning in your life. Where you can see yourself in God's bigger story and find purpose in each day. Such that you live intentionally and improve your life one day at a time through the choices you make. And where you accept that we all have issues and trials, and you are able to hang on to hope and find meaning even during the tough times.   
Choosing a Healthy Mindset
My third wish for you is a mindset—a way of thinking—made up of 5 life improvement steps.  
Wish #3 – I wish for you to embrace a practical approach for healthy living marked by a pursuit of spiritual wisdom, emotional well-being, and personal excellence. A mindset such that you:
Know that the God who loves you personally is one you can turn to for comfort and wisdom.  
Develop self-awareness and give yourself grace while being accountable for your choices.
Invest in relationships with people and enrich their lives with empathy, love, and forgiveness.
Adopt daily habits that help you steward the time and resources you have been given.
Embrace opportunities to serve others and have a positive impact on their lives.
I hope you enjoyed the "3 wishes" exercise and now see it as something much more than a game. It is also a way to help you think about and practice choosing a healthy mindset for your own life.
And I have some wonderful news about the 3 wishes I made for you—they can all come true! You can adopt a deep personal faith and Biblical worldview, find hope and meaning in your life, and embrace a practical approach for healthy living. Choosing a healthy mindset is, in fact, a choice!
As someone who cares, even if we have never met, I wish that for you.
Question: What obstacle makes it harder for you to choose a healthy mindset?
Action: Pick 1 of the 3 mindsets described above to start moving toward today.   
Photo by bitesizeinspiration

Photo by brunkfordbraun

Photo by davis.steve32