Featuring a STEPS Story by Dave M.
Author's Note: This article is one of a series of STEPS Stories, which means it was written by and refers to someone else, not to me personally. Anyone is welcome to submit their own STEPS Story as a way to share their experiences and add value to the lives of others. Enjoy …
 I grew up in a family where showing feelings and expressing love were not the norm. I remember receiving the cursory "Good job" or "You know we love you" responses when I did something well, but any such expressions of emotion or affection normally lacked real depth.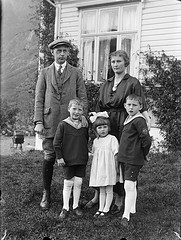 I learned to play that game, but keeping my feelings locked inside ultimately led to feelings of isolation. I became comfortable keeping a level of insulation in my life. It eventually infected my relationships with my parents and with my brother.
My brother and I were about 5 years apart, so we were always at different stages in our lives. Since we didn't tend to share much with each other, we did not develop the type of closeness that perhaps some brothers have. This "separateness" moved us to become more like casual acquaintance than close brothers.
With this distance between us, it became easier to focus on each other's faults and mistakes rather than face up to our part in the situation. Over time, the gap became so great that I could find fault in just about any decision my brother made. This became a tool for hiding my feelings of loss, and the isolation grew even deeper.
It was not until I was in a Twelve Step study that I realized what had happened. Step 8 asks us to, "Make a list of all persons we have harmed, and become willing to make amends to them all."  I began to understand how I had ignored and criticized my brother rather than investing in a positive relationship with him. I had neither taken responsibility for those actions nor asked him for forgiveness. Step 8 was the "smack in the face" I needed to prompt me to make things right with my brother.
It was not going to be easy. I figured that admitting my mistakes with him could go one of two directions, either toward putting us on a path to reconciliation or increasing the distance between us. After how we had acted with each other, I would have understood if he reacted negatively. It took me almost 6 months to get the courage (with God's nudging) to reach out to my brother. It turned out to be one of the best things I had ever done. He was deeply hurt ("numb" to use his words), but deep down he wanted to have a close relationship as much as I did.
Making amends with my brother has helped put us on a path toward a real and genuine relationship. I am blessed to receive God's grace in this area of my life and to have gotten the second chance I so desperately wanted to get my brother back.
I hope others see the real value in the Twelve Steps. For anyone who mistakenly views them as a formulaic or "canned" approach to living, understand that if you give the steps a chance, wonderful things will happen in your life.
Photo by Fylkesarkivet i Sogn og Fjordane